Cirium, the specialist firm in aviation sector analysis, published its annual report on the punctuality performance of airlines worldwide in the year 2022, where Brazil's AZUL was crowned as the most punctual in the world with 88.93% of its flights on time.
Second place went to Japan's ANA with 88.61% of its flights on time, and Japan Airlines ranked third with 88.00%.
→ Rolls-Royce completes construction of its new UltraFan engine
In fourth place was Latam Airlines with 86.31% and in fifth place Delta Air lines with 83.63%.
The list is completed by Avianca with 83.48%, Emirates with 81.30%, United Airlines with 80.46%, Qatar Airways with 78.32% and American Airlines with 78.29%.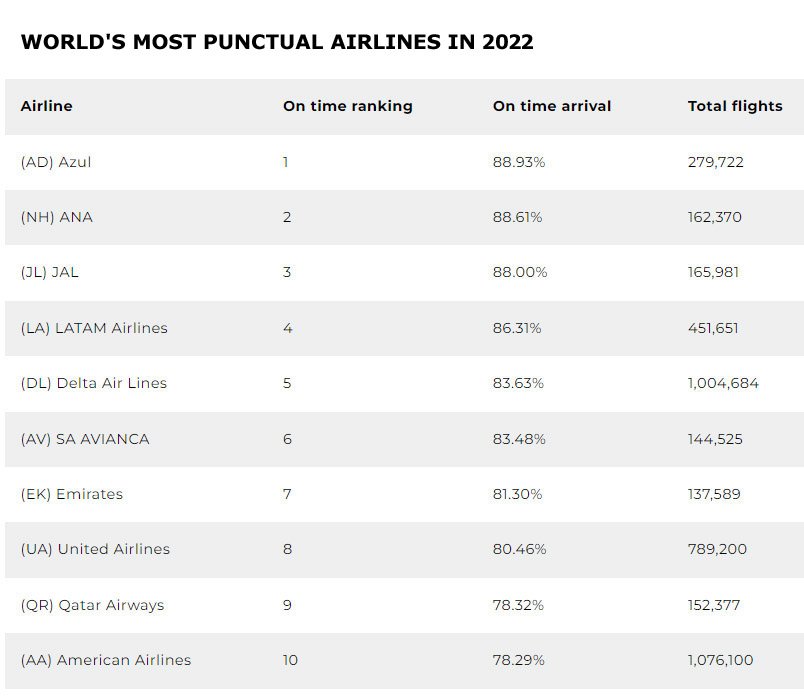 As a reminder, Cirium reports are designed to evaluate airlines and airports that perform well in terms of on-time performance. The data on which these reports are based comes from the Cirium Core, which contains more than 300 terabytes of information from more than 2,000 sources.
LIST OF MOST PUNCTUAL AIRLINES BY REGION
Related Topics
Un Enamorado de la Aviación